Begin any time
Private Studio Classes
Call for location & space availability – 503-329-9802
See Studio page for student guidelines & info.
All classes are suitable for beginners; most can also satisfy more experienced students. Any physical limitations should be communicated to the teacher.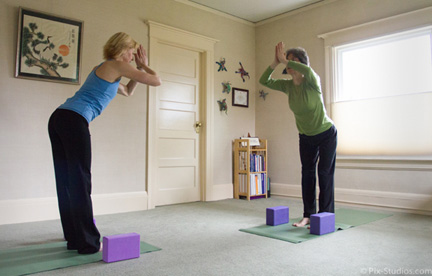 Monday 9:00 – 10:15 AM
TriYoga® Basics – Gentle tone and stretch
Class limit 7;  $10/class
Monday 1:00 – 2:00 PM
TriYoga Level 1 – with emphasis on Prana Vidya
Class limit 4;  $15/class
Monday 7:45 – 9:00 PM
Evening Yoga, TriYoga Basics and Level 1 – Slow movements release tension
Class limit 6; $10 per class
Thursday 9:00 – 10:30 AM
TriYoga Community Practice Group – Flow and pranayama with long-time TriYoga practitioners
Yoga Class Choices
TriYoga Basics & Level 1
For beginners and ongoing students, this class incorporates gentle breathing and stretching exercises designed to increase joint flexibility and tone muscles, improve balance, develop more effective use of lungs, and enhance energy. Flowing motion is guided by the breath. The class begins and ends with breath focus and relaxation. Suitable for a lifetime of practice.
TriYoga Basics
Practice good body alignment and muscle engagement in foundational postures and flowing movements. Breath practices can increase energy. Emphasis on comfort and safety with body awareness. Suitable at any time of life.
TriYoga Community Practice Group
Flow and pranayama with long-time TriYoga practitioners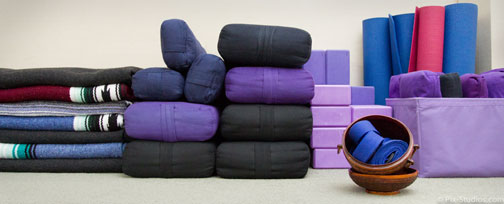 Private Class Options
Hatha Yoga Cross-training
Whether you hike, golf, garden or "whatever", exercise can leave muscles stiff or aching. It doesn't have to be that way! Learn a few yoga postures that prepare for your favorite activity to improve your performance and reduce risk of injury as you become more flexible and aware of balance. A good way to focus on individual needs.
Chair and Office Yoga
Whether you want to enliven your body during travel or as a break at the office, these sequences give your body relief from the strain of prolonged sitting. This option is also appropriate for those with balance issues or hip, leg and foot injuries.
(photos of Latika teaching & props ©pix-studios.com Denise Whitney Dahlke)